About Us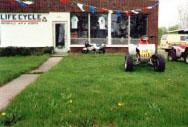 Our First Shop
Our dealership has a rock solid reputation of providing excellent service, support and satisfaction. We pride ourselves on giving our customers the best service available, the best parts and accessories, and a staff that understands all aspects of our business.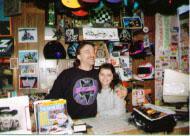 David and Rebeca Reynolds in their first shop
Life Cycle was born in April of 1991, following what was, I guess I can say, "a winter of our discontent." Freshly unemployed, Dave was struggling with the thought of working for another boss; one who would probably stifle his ideas again. Financially, we were barely scraping by. I had quit waiting tables for a lower-wage, less insane job, and Dave wasn't filling the void with part-time jobs anymore, like he had done in the past. (He had even delivered pizzas in a car with no seats, sitting on a plastic milk crate to drive.) About the time I was getting really sick of cheap food, I asked if he could possibly speed up his decision about the motorcycle business. "I know it's hard, Dave, but are you going to open your own parts and accessories store, or not?"
Well, we had no money, no one offering to back us, and the banks laughed in our faces, and Dave had been searching high and low for a cheap building to rent, with no luck.
About this time, Dave's older brother, Mike, came for a visit. Dave had finally found an available little building with very low rent, right near our neighborhood, and Mike said, "Let's go look at it, right now!"
Now Mike was successfully working his tail off in the restaurant business, of which, at one time, he had tried to talk us into joining. But, Dave was always holding out for his biggest dream career: motorcycles.
He had fallen in love with them as a boy at the drive-in theatre with his dad and big brother; the movie was "On Any Sunday", of course. Captivated by the desire to own a motorcycle, along with tens of thousands of other new enthusiasts influenced by Bruce Brown and Steve McQueen's collaborative masterpiece, Dave worked two newspaper routes for several years, saving every cent for the purchase of a used motorcycle, which ended up being a 1970 Suzuki TS90. Mike was inspired as well, purchasing a Honda CL125 Scrambler. They spent many hours riding, and were always fascinated in the latest, greatest models. Once in a while, they would sneak out of church for their own religious field trip to the motorcycle shop down the street.
Dave eventually grew up to work in various motorcycle dealerships. He learned many aspects of the business, from being a mechanic, to a parts guy, to salesman, at which he particularly excelled. Yes, I actually saw him sell the shirt off his back once, at a race track.
So, now that a small door of opportunity was actually opening in the shape of a smashed up little building on Lake Street, Dave was suddenly paralyzed by the thought. Mike was steadily prodding him to go look at the building, and he just couldn't move. Looking back on it now, I understand why. But at the time, I was slightly naive to the enormity of the decision.
He looked at me and asked, "Are we ready for this kind of commitment?"
And I remember saying, "Yeah, sure, how hard can it be? What else are we going to do?"
So Mike dragged him over to the building, which was an absolute wreck, and verbally kicked Dave in the butt like big brothers do, saying, "Just Do It! Don't think about it any more!"
Then we all started picking up the broken glass, and shoveling, and hauling, and cleaning, and hammering, and painting....
We officially started our business with the first month's rent of $350.00 from our savings. Dave made about $1500.00 selling a collection of old bikes out of our garage, and that bought the beginning of our inventory, which consisted primarily of MX t-shirts. Our friends pitched in and helped, and soon there was a never-ending party at Dave's World of Wheels, which is fortunately what we didn't name the shop; sorry Jason.
Dave hustled on the phone, pounded the streets, went to every motorcycle event around with his own flyers (these were pre-internet days), and worked all hours, seven days a week. Always interested in different bike brands, he went the extra mile to accommodate all riders on all makes and models, thus forming the inclusive philosophy of Life Cycle.
We will never judge you by the bike you ride! All motorcyclists should stay bonded to one another by the adventure and freedom of the sport. It's about your personal journey through life, and how exciting you make it.
Which brings us to the significance of our name. Working in the business a while, Dave noticed a definite "Life Cycle" in the motorcycle world. Anyone who really gets "bit by the bug", never seems to lose it. These people tend to go through a life-long cycle of getting in and out, and back into the sport. Whenever practicality, or the concern of family members, or hardship intervened, the ways of the heart came back to eventually bring the spirit of motorcycling into their lives again. We all go through a rediscovery of youth; an ageless exhilaration that blows our troubles away, when we get on a bike and ride. Even when the cycle gets broken, life finds a way.
So, how hard could it be, opening a motorcycle store with no motorcycles, in a winter state, greatly under-funded, in a matchbox-sized building plagued with problems, and down the street from one of the biggest, multi-franchised motorcycle dealerships in the area? It was very hard. And a long story.....one that I might continue on this website, now and then.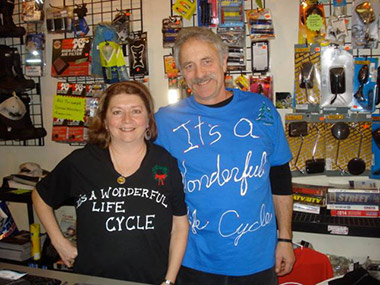 David and Rebeca Reynolds
As for the past fifteen years, the success of our friendly shop saw us grow quickly. We moved into a bigger and better facility down the street in 1994, and acquired the KYMCO franchise in 2000, SSR in 2019, Electric Bike Co. in 2022, and QJMOTOR in 2023.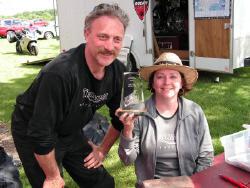 Life Award
We now have an excellent staff of enthusiasts working hard to promote motorcycling in our area.